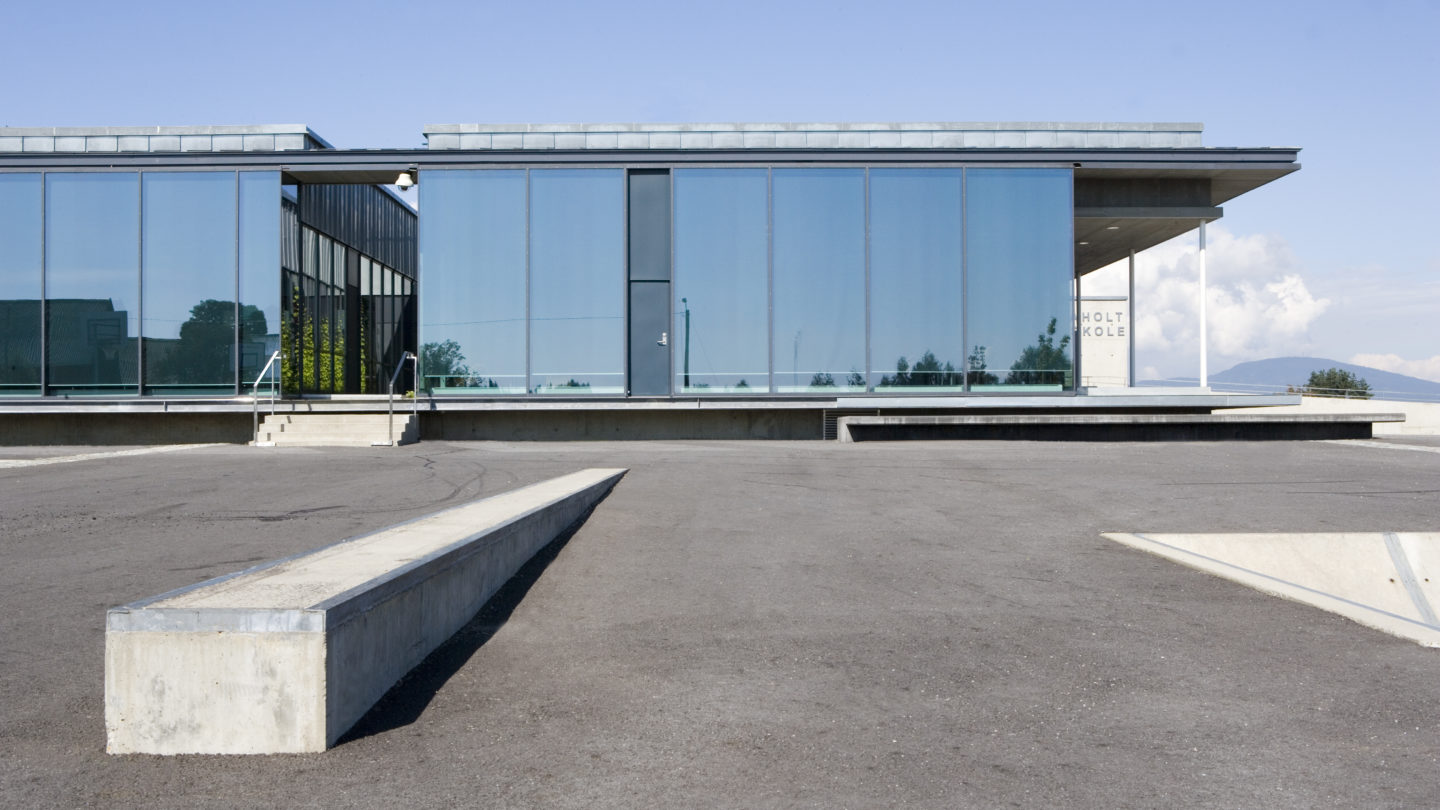 About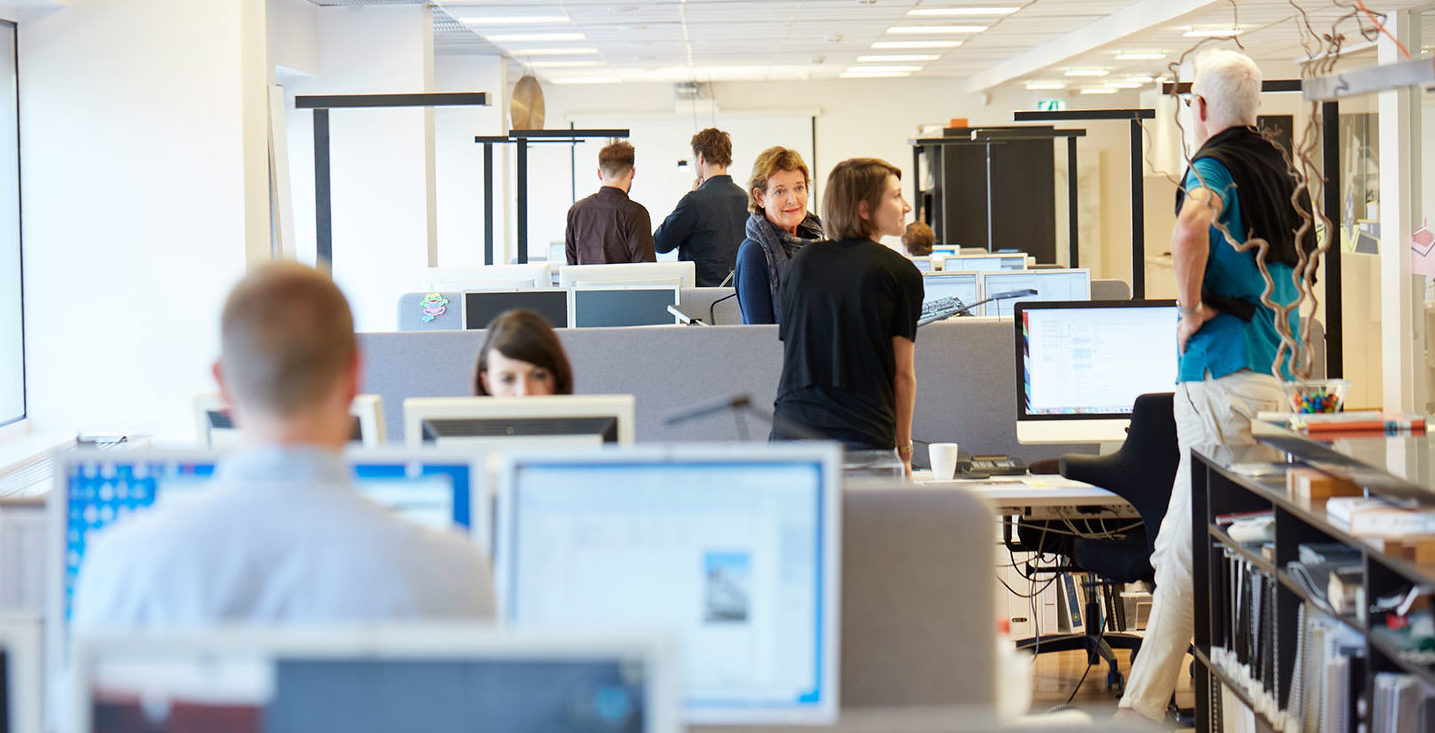 Kristin Jarmund Architects, established in 1985, has over the years attained a high profile on the architectural scene in Norway. This is confirmed by a series of awards and 1st prizes received in both private and open competitions. Today the practice maintains disciplines of Architecture, Planning and Interior Design.
The practice's design philosophy aims at solutions that reduce complex problems to simplicity in form and function, yet allows for a sensitive awareness to context and the human dimension.
Good results come from a successful process. Making architecture is a team-effort. Now more than ever, the result of our work depends on a close collaboration with a number of players; the client, public administration, specialized consultants, conservation authorities and, above all, the end users. At Kristin Jarmund Architects we have the skills and experience to guide and nurture the process through every phase of a project, from public planning through schematic design and construction documents – to successful execution on site.
Awards
2014

Anders Jahre's Award 2014 (Anders Jahres Kulturpris), Norway

2006

National Building Quality Award (Statens Byggeskikkpris)

Honorable mention, Stortingsgt. 6 / Fokus Bank

Nydalen Metro Station nominated for the Mies van Der Rohe prize

2005

The Norwegian Lighting Award (Norsk Lyspris), 1st. prize, Nydalen Metro Station

Designer`s Saturday Award. Best Norwegian Interior, 1st. prize, Råholt School

Nathional Building Quality Award  (Statens Byggeskikkspris). Honorable mention, Råholt School

2003

Diploma, "Best Colour Interior" (Swedish), Kreditorforeningen

2002

2002 National Certificate for Outstanding Design
Graphic profile and web-site, own office (with See Design)

2001

Drammen County Building Award,
Honorable Mention for Gulskogen skole

2000

Houens Funds Certificate for Outstanding Architecture for Justervesenet

National Schoolbuilding Design Award Honorable Mention for Benterud School

National Certificate for Outstanding Design Norsk Designråd, for Benterud School

Egers Legat, Oslo Association of Architects, awarded Kristin Jarmund

1997

Skedsmo Kommune Building and Environment Award for Justervesenet

1996

Representing Norway at the International Biennale of Architecture, Venice, Italy, with Stensby Kindergarten

1981

Selected as the National Association of Norwegian Architects´representative at the Rome Institute, Italy
Monograph
Kristin Jarmund, no. 2 in the series Norwegian Architects, – Frampton, Sand, Maning/Grønvold – Pax Forlag 2008

This illustrated book presents the works of Kristin Jarmund Architects: urban buildings as Stortingsgata 6, the metro station in Nydalen and the Eitzen Group headquarter at Tjuvholmen, and also, The Norwegian Metrology and Accreditation Services at Kjeller and "The Treasury" in Sandvika.
Publications
2013

BOOKS
Nordic Architects – Ebbs & Flows, David Sokol, Arvinius + Orfeus Publishing
Office Building, Dalian University of Technology Press
Interiør & Møbler, Årbok 2013, NIL

MAGAZINES
Arkitektur N, No.3
Arkitektur N, No.5

2012

BOOKS
Lys, Calina Pandele Yttredal, Fagbokforlaget
School Architecture, Ifengspace (China)
Rom & Møbler, Årbok 2012, NIL

MAGAZINES
Arkitektur N, September
Byggenytt, No.2/3,
Bergenstidende Juni
Glass & Fasade, No.4
Bygg Aktuelt, No.8
Byggenytt, No.5

2011

BOOKS
Design by Nature, Steffan Bengtsson, Arvinius Förlag AB
Rom & Møbler, Årbok 2011, NIL

MAGAZINES
Arkitektur N, August
D2 DagensNærringsliv, September
Byggeindustrien, No.18
Byggenytt, No.6
Aftenposten, July-August

2010

BOOKS
Made in Norway, publ. Birkhauser
M³ – Modern Architecture (China)
Omni – Educational Facililties, Archiworld (South-Korea)
Rom & Møbler, Årbok 2010, NIL

MAGAZINES
Id+C (China) April
Arkitektur N, Feb
Archistorm Review, No.40, Jan/Feb
Mark (NL) No.24, Feb/March
Spaces, (Nepal) July/Aug
Speech:, (Russia) June
Arkitektur N, February
D2 DagensNærringsliv, August

2009

BOOKS
Norsk Murarkitektur – Håkonsen, Dahle, Dahl, Krogstrand, Gyldendal
Rom & Møbler, Årbok 2009, NIL

MAGAZINES
Architecture + Design (India) January
Architecture + Design (India) May
D+A – Architecture and Design (Singapore) Issue 053
Il Giornale dell´Architettura (Italy) Issue 79

2008

BOOKS
Kristin Jarmund, no. 2 in the series Norwegian Architects, – Frampton, Sand, Maning/Grønvold – Pax Forlag
Representativt – Buildings in the Foreign Service, Forlaget Press
The Phaidon Atlas of 21st Century World Architecture, Phaidon
Visuell, Kultur og Samfunn – Thurid Vold, Gyldendal
Design Hotels Yearbook

MAGAZINES
Interni (RUS) November
Mark, No.13 – April/may
Monocle, November
Arkitektur N, August
Estate Eiendomsnytt, No. 1
Sten, 1
Interiør, No.1
Estate lokaler, March
Flisglede, No.1/April
Byggenytt, No.4
Aftenposten, Oslopuls, May

2007

MAGAZINES
Fargemagasinet, No.4
Næringseiendom, No.5/May
Aftenposten, June
Byggaktuelt, June
Aftenposten, August
VG, July
Dagbladet, August
Fargemagasinet, Autumn
Byggeindustrien, No.16
Dagens Næringsliv, Magasinet, September

2006

BOOKS
Fargene Forteller – Tove Steinbo, Damm Forlag

2005

BOOKS
New Scandinavian design, teNeues
Arkitektur I Norge, Yearbook
Rom & Møbler, Årbok 2005, NIL
Architecture from Norway, The Norwegian Ministry of Foreign Affairs and The National Museum of Art, Architecture and Design

MAGAZINES
Byggekunst – No.8
Byggekunst – No.5
Casabella (Italia) No.739-740
Odd Magazine, No.1
Magasinet Dagbladet, 04.09.05
Aftenposten Nye Rom, Autumn

2004

BOOKS
Rom & Møbler, Årbok 2004, NIL
New Bars & Restaurants, Harper Design and Loft Publications, N.Y.

MAGAZINES
Byggekunst – No.1
Wallpaper March
CasaViva (Germany), No.19
Artuitectura (Romania), October
A+U (Japan), No.12

2003

BOOKS
Arkitektur i Norge,  Årbok
Mindretallets mangfold- Kvinner i norsk arkitekturhistorie – Wenche Findal, publ.Abstrakt

MAGAZINES
Byggekunst – No.8
Byggekunst – No.2
Byggekunst – No.1

2002

BOOKS
Arkitektur i Norge, Årbok
Rom & Møbler, Årbok 2002, NIL
Norway – a guide to recent Architecture, publ. Abstrakt

MAGAZINES
Byggekunst – No.1
Byggekunst – No.6
Mur – No.3

2001

BOOKS
Priset Arkitektur, Ulf Grønvold, Arkitekturforlaget
Arkitektur i Norge, Årbok
Bars & Restaurants, Loft Publications (Spain)

MAGAZINES
Byggekunst – No.2

2000

MAGAZINES
Visuelt/Grafill – No.5
Summa+, Argentina – No.2
Byggekunst – No.3

1999

BOOKS
Arkitektur i Norge, Yearbook, main presentation

1998

BOOKS
Mitt hus er din utsikt, Statens Byggeskikksutvalg

MAGAZINES

Domus, No.810
Arkitektur (Sverige) – No.8
Byggekunst – No.5
Byggekunst – No.8
Byggekunst – No.2
Interiørmagasinet – No.3

1997

BOOKS
Arkitektur i Norge, Årbok

MAGAZINES
Alam Albena (arabic journal), Egypt – 190

1996

BOOKS
Kindergarten Architecture, M. Dudek, E & FN Spoon
Northern Factor, Museum of Finnish Architecture

MAGAZINES
Architectural Review – 1194

1995

BOOKS
Arkitektur i Norge, Årbok

MAGAZINES
Byggekunst – No.2

1994

BOOKS
Arkitektur i Norge, Årbok

MAGAZINES
Byggekunst – No.5
Mur  – No.3
Mur – No.2
Mur – No.1
Arkitektur Vertækni Skipulag, Island – No.1

1993

BOOKS
Arkitektur i Norge, Årbok

1992

BOOKS
Arkitektur i Norge, Årbok

MAGAZINES
Byggekunst – No.4
Mama, Sverige – No.1

1991

MAGAZINES
1991 Mur – No.4

1988

MAGAZINES
1991 Mur – No.4
Exhibitions
2012

"New Nordic"
Exhibition at Louisiana Museum of Modern Art, Denmark
Kristin Jarmund Architects represented with:
Råholt Secondary School
Gjerdrum Secondary School

2008 - 2011

Kristin Jarmund Architects "Selected Works"
The National Museum of Art, Architecture and Design in collaboration with The Norwegian Ministry of Foreign Affairs.
Exhibited at:
Palazzo Trinci,Foligno, Italy
Il Lazzaretto, Ancona, Italy
The Royal Danish Academy of Fine Arts, Copenhagen, Denmark
Groningen, the Netherlands
Flemish Department of Foreign Affairs, Brussels
Ethnographical Museum, St. Petersburg, Russia
Art Forum Proekt Fabrika, Moscow, Russia
Ecole d´Architecture, Universite´McGill, Montreal, Ottawa
Catholic University, Washington DC, USA
Departemento de Arquitectura Tecnologico de Monterrey, Mexico
UNAM Architecture School, Mexico City, Mexico

2011

"Spor. Norwegian Architecture 2005-2010"
Exhibition at The National Museum of Art, Architecture and Design, Oslo
Kristin Jarmund Architects represented with:
The Norwegian Embassy in Kathmandu, Nepal

2005 - 2010

"Contemporary Norwegian Architecture"
Travelling exhibition by The National Museum of Art, Architecture and Design.
Kristin Jarmund Architects represented with:
The Norwegian Embassy in Kathmandu, Nepal

2000 - 2005

"Contemporary Norwegian Architecture"
Travelling exhibition by The National Museum of Art, Architecture and Design.
Kristin Jarmund Architects represented with:
Stortingsgt.6/Fokus Bank
Nydalen Metro Station
Råholt Secondary School

1995 - 2000

"Contemporary Norwegian Architecture"
Travelling exhibition by The National Museum of Art, Architecture and Design.
Kristin Jarmund Architects represented with:
Justervesenet
Bar and Restaurant
Benterud School

1998

"The New Generation of the North"
Gamle Dok, Copenhagen, Denmark,
Kristin Jarmund Architects represented with:
Stensby Kindergarten

1996 - 1997

"The New Generation of the North"
The International Architecture Biennale, Venice, Italy.
Also exhibited in:
Museum of Finnish Architecture, Finland
Form and Design Center, Malmø, Sweden
Norsk Form, Oslo, Norway
Kristin Jarmund Architects represented with:
Stensby Kindergarten

1996

The National Museum of Norway
Stensby Kindergarten as part of the permanent exhibition

1990 - 1995

"Contemporary Norwegian Architecture"
Travelling exhibition by The National Museum of Art, Architecture and Design.
Kristin Jarmund Architects represented with:
Stensby Kindergarten

1993

NAL, The National Association of Architects´Jubilee-Exhibition:
Kristin Jarmund Architects represented with:
Stensby Kindergarten

1988 - 1992

"PELIKAN"
Works by Young Norwegian Architects, exhibited at:
Galleri Rom, Oslo, Norway
Scala Gallery of Architecture, Copenhagen, Denmark,
Aarhus Architecture Gallery, Denmark
Kristin Jarmund Architects represented with:
Fyrstikkterrassen
Competitions
2016

Schweigaardsgate 35-51, new office building, Oslo.
Competition, 1st prize.

New Viking Ship Museum in Oslo.
Open international competition, Honourable mention.

2015

Haslevangen Bygg 01, transformation of former distillery, Oslo.
Competition, 1st prize.

2014

Kvartal 57, residential building, Kristiansand.
Competition, 1st prize.

2013

The Nobel Center, ceremonial hall and Exhibition center, Stockholm, Sweden.
In collaboration with Kengo Kuma & Associates.
Pre-qualification, short listed.

Fyrstikkalléen 1, office complex, Oslo.
Competition, 1st prize.

Skauløkka, mixed use project, Kongsberg.
In collaboration with SJ Architects.
Competition, 1st prize.

2012

"Lysaker Polaris II", office complex, Oslo.
Competition, 1st prize.

2011

Norwegian Embassy in Nairobi, Kenya.
Competition, 1st prize.

2009

"Crystal Clear", mixed use high-rise building, Oslo.
In collaboration with C.F. Møller Architects.
Competition, 1st prize.

Ensjøveien, office complex, Oslo.
Competition, 1st prize.

Kvartal 42, mixed use building, Kristiansand.
Competition, 1st prize.

2008

"Skjærereiret", permanent exhibition, Bergen.
Competition, 1st prize.

Kokstadflaten 4B, office complex, Bergen.
Competition, 1st prize.

2007

Westerdals School of Communication, Oslo.
Competition, 1st prize.

Gjerdrum Secondary School, Gjerdrum.
Competition, 1st prize.

2006

Sirkeltomta, Nedre Elvehavn, Trondheim.
Competition, 1st prize.

2005

Akademika Bookshop, Oslo.
Competition, 1st prize.

2004

National Dental Faculty, University of Bergen.
Competition, 1st prize.

2003

Rakkestad Junior School, Rakkestad.
Competition, 1st prize.

Ski, Upper Secondary School, Ski.
Competition, 1st prize.

2002

Bertel O.Steen, Oslo, Headquarter/Officebuilding/Mercedes Benz Showroom.
Competition, 1st prize.

Rasmussen Group, Kristiansand, Headquarters.
Competition, 1st prize.

2001

Råholt Secondary School, Eidsvoll.
Competition, 1st prize.

2000

Frogn Upper Secondary School, Drøbak.
Competition, 1st prize.

1998

Gulskogen Junior/Secondary School, Drammen.
Competition, 1st prize.

Lille Langerud Caring and Nursery Centre, Oslo.
Competition, 1st prize.

The Town Hall Quarter, Ålesund.
Competition, 2nd prize.

1996

Benterud Junior School/Kindergarten, Lørenskog.
Competition, 1st prize.

New Railwaystation, Sandefjord.
In collaboration with Telje-Torp-Aasen Architects.
Competition 1st prize.

The Enqvist Property Development, Oslo,
Competition, 1st prize.

1995

New Club House for Oslo Golf Course.
Competition, 1st prize.

1994

New University Library in Oslo. Competition,
Honorable Mention.

Design elements for Oslo Public Transport Systems.
Competition, 1st prize.

1993

Norwegian Fjord Center, Geiranger.
In collaboration with G. Jonsson Architects.
Competition, 1st prize.

1991

Rikshospitalet Oslo Centre.
Planning Competition, 2nd prize.

Stensby Kindergarten, Eidsvoll.
Competition, 1st prize.

Langhus Upper Secondary School.
Competition, 1st prize.

1990

Headquarter building Citadel, Oslo.
Competition, 1st prize.

1989

Oslo Airport, Hurum.
Competition, Purchase prize (part of team).

1985

Bjerke Racing Course, Oslo.
Competition, 2nd prize (part of team).

Nedre Elvehavn, Trondheim.
Planning Competition, 2nd prize (part of team)
Lectures
2016

pARCours, Architektur im dialog, Berlin, Germany

2013

Benaki Museum, Athens, Greece

2011

Kent state University, Florence, Italy

Universita Politecnica Ancona, Palazzo Trinci, Foligno, Italy

Colegio de Arquitectos de Nuevo Leon, Mexico

2010

The Royal Danish Academy of Fine Arts, School of Architecture,
Copenhagen, Denmark

Academie van Bouwkunst , Groningen, Netherlands

Tribhuvan University, Department of Engineering, Kathmandu, Nepal:
Seminar "Living with Conceptual Modernism"
Keynote-speaker

Hogeschool voor Wetenschap en Kunst, Sint-Lucas Architectuur, Campus Brussels

The Art Centre ProArte, St. Petersburg, Russia

The School of Architecture Markhi, Moscow, Russia (lecture and master class)

2009

The Azrieli School of Architecture and Urbanism, Carleton Universty, Ottawa, Canada

Ecole dÁrchitecture, Universite´McGill, Montreal, Canada

Catholic University, Washington, USA

The NAL–Academy (The National Association of Norwegian Architects), Norway

UNAM Architecture School, Mexico City, Mexico

2008

Fundacion FIDAS, Seville, Spain

Cork Institute of Technology, Irland

The National Museum of Art, Architecture and Design, Oslo, Norway

Casa dell´Architettura, Rome, Italy, for In-Arch (National Institute of Architecture, Rome)

Scandinavian School Conference, Manchester, England, for British Council for School Environments

2007

The Summit Conference, Liverpool, England, for British Council for School Environments

2006

The Summit Conference, London, England, for British Council for School Environments

2005

The Heritage Society of Norway, Oslo

Tokyo National University of Fine Arts, Tokyo, Japan

NRK – The main Norwegian Radio Broadcasting Station; architectural comments in "Culture in Norway 1905 – 2005", a series of 52 weekly radio-programmes

2004

Lighting Design Forum, Norway

Norwegian radio channel 2, portrait-interview "Long Lunch"

2003

The City Hall of Oslo, Norway

2002

The Ultima Festival of Electronic Art, Oslo, Norway

The National Society of Civil Engineers, Norway

The NAL-Academy (The National Association of Norwegian Architects), Oslo; symposium "Colours within Architecture"
Contact
Kristin Jarmund
Arkitekter
(+47) 22 92 60 60
firmapost@kj-a.no
www.kj-a.no
Stortingsgata 20
Postbox 1693 Vika
0120 Oslo
Norway