News –
Top architecture firms unite in Telegrafen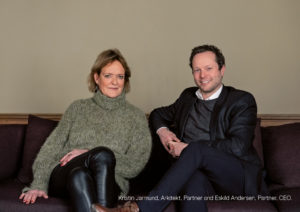 Becoming one of the Nordic region's strongest architectural communities
The award-winning architectural practice Kristin Jarmund Arkitekter (KJ-A) will become part of Nordic – Office of Architecture in Oslo. Nordic has a high level of professionalism and a prominent reputation in the industry. This is a great path to further growth, says Kristin Jarmund.
Nordic — Office of Architecture is consolidating its position as one of the leading architectural environments in the Nordic region. The head office, located in Telegrafen – one of the monumental buildings in Kvadraturen in Oslo – will house over 250 architects as Norway's largest architectural office under one roof.
The two firms anticipate that their combined efforts will provide a strong platform for further development, with the ambition to create even better architecture. The CEO of Nordic, Eskild Andersen, emphasises that together Nordic and KJ-A will be an incredibly exciting professional environment for architecture in the region.
Strong professional environment
– Kristin Jarmund and her colleagues are stars in Norwegian architecture. We did not hesitate for one second when this opportunity arose, says CEO of Nordic, Eskild Andersen.
Kristin Jarmund, who has built up KJ-A over many years, says Nordic is the most strategic choice to ensure the continuation of what she has created, both for clients and employees. Nordic and KJ-A complement each other's professional platforms, and Jarmund's team will have a safer foundation on which to stand and broader opportunities for professional development. Jarmund will enter as a partner and act as one of the creative leaders in the firm.
– We are proud of everything we have achieved, but we need a larger community as we progress, says Jarmund.
KJ-A Arkitekter
Kristin Jarmund established her office in 1985 and has since then delivered numerous prestigeous projects both in Norway and abroad, including the Norwegian Embassy in Kathmandu, Justervesenets head office, Nydalen Metro Station, Westerdals School of Communication and Stortingsgata 6.
KJ-A has won a number of awards, including the Houen Fonds Diploma, Norway's highest architectural award in 2000, for Justervesenet. In 2011, Kristin Jarmund was named an Honorary Fellow by The American Institute of Architects (HonFAIA). Before her, only three Norwegian architects, Sverre Fehn, Kjell Lund and Nils Slaatto, had received the award.
In 2014, Kristin Jarmund was awarded the Anders Jahre Culture Prize.
KJ-A will be an integral part of Nordic, but will operate in a way that allows employees and clients alike to be confident in the continuing quality and integrity of the KJ-A brand.
Nordic is growing
Nordic is owned by Norconsult and is already established as one of the leading architectural offices in the Nordic region. With over 230 architects in Oslo, Copenhagen and Reykjavik, the firm is responsible for projects such as the New Government Quarter, Stavanger University Hospital, Oslo Airport and Bergen Airport.
– Kristin Jarmund is a big name in the Norwegian and international architecture community, and we are delighted that she is joining us. Kristin and her team are leaders in this industry, says Eskild Andersen.
Read the interview in arkiteknytt:
arkiteknytt.no
For additional comments:
KJ-A:
Kristin Jarmund
Mob: 928 08 848
kj@kj-a.no
Nordic:
Eskild Andersen
Mob: 996 03 377
ea@nordicarch.com
Nordic:
Lisa Fjeld
Mob: 992 40 675
lf@nordicarch.com